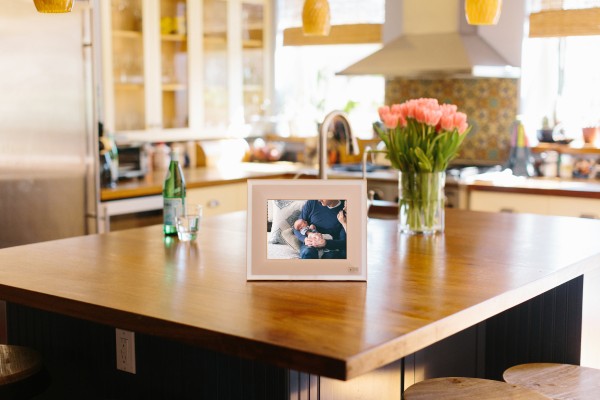 Do you ever have trouble choosing your favorite wedding pictures to have around the house? How are you supposed to choose only four pictures out of the hundreds of photos taken on your wedding day? We as planners even have trouble narrowing down the ones we publish! Aura Frames is our solution!
The wedding pictures that appear on the screen are managed through a free app.  It is even possible to adjust your settings to automatically update the pictures that appear with new ones you take! Their cutting edge programming can detect low quality images or duplicates to insure only the best images are displayed. This frame is seriously like a smart-phone. It's a smart-frame!
Here are just a few of the many benefits of Aura Frames:
Ultra-High Density Display (aka the quality of the screen is fabulous!)
Gesture Control (it's as simple as waving a hand to change a picture)
Energy Conscious (we love the environment!)
Auto-dimming (because everyone hates when you can't see your screen in sunlight)
Many Ways to Display (wall, stand, landscape, portrait, and we are just waiting for it to be able to float lol!)
Our favorite part of this frame is that it is so well designed! There are no bulky buttons, and the frames are great quality! Jonathan Adler and Aura Frames recently collaborated for a limited edition frame, which will be available in October.  You can see this blue beauty, along with other frames, below!