1. St. Francis Winery: Oh how we love Napa and beautiful vineyard weddings! St. Francis Winery has a beautiful mountain and vineyard backdrop for your ceremony, with a lovely outdoor reception area. The mountainous views gives you the best of both worlds that everyone loves about Cali – mountains and the ocean just a short drive away.
2. Auberge du Soleil: This resort has a Michelin star restaurant, so if the reception eats are very important to you – this is your spot! The breathtaking view overlooking miles of vineyards and olive groves is perfect for a ceremony and is exactly what many couples envision.
3. Meadowood: One of our all time favorite wedding spots. The entire wedding weekend feels luxurious and relaxing. The spaces available to you are intimate and beautiful, and you truly can build the wedding of your dreams in this space. Meadowood is easily our most recommended venue, and for good reason! 
4. Durham Ranch: This permanent white pavilion is surrounded by beautiful grassy fields and a serene swimming pool. Located in St. Helena, this venue is a wonderful mix of farm to table elegance.
5. Solage, an Auberge Resort: The experience of Solage's resort and amenities is what draws our clients to this property. The abundance of activities (complimentary cruiser bikes here we come), land, food & drink options, and luxurious spa treatments make this a relaxing and fun weekend for all wedding guests. They have modern spaces for your reception, and multiple options for your outdoor ceremony! The best words to describe this Northern California wedding location are "relaxed luxury".
6. San Francisco City Hall: Set in the heart of San Francisco, City Hall is a beautiful modern venue for those wanting a downtown wedding. The grand staircase is the staple picture, and you can even have your ceremony on it!
7. Beaulieu Garden: Beaulieu is a private, family-owned estate that is one of the oldest wine producing vineyards in Napa. The pool and perfectly manicured grounds are an ideal setting for a romantic garden party wedding! Most couples choose to have their reception under the branches and leaves of the tree overhang – we love looking up to tons of lights and branches at night while eating dinner!
8. Santa Lucia Preserve: If you want a fairytale woodland wedding, this is your perfect venue. The ceremony takes place surrounded by massively large redwood trees. One look at this ceremony space and you're sold! Your reception takes place in a refined barn with lofted ceilings.
9. Asian Art Museum San Francisco: This neo-classical style building is in the heart of San Francisco and offers multiple indoor spaces for your event. It's monstrous pillars and art filled rooms make your special day feel like a grand ball!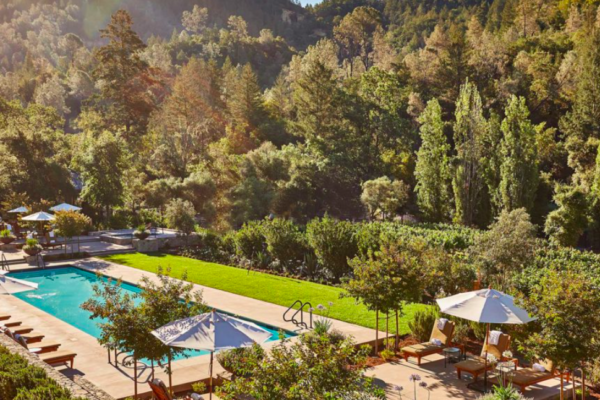 10. Calistoga Ranch: This majestic ranch is located on many acres of land tucked away in a canyon just north of St. Helena. Calistoga is an Auberge resort, so you know the service and food selection will be exquisite. Its serene pool, stunning lake front, and gorgeous landscape give you so many options for your special weekend. We love moving around on a wedding and hosting events in different spaces so that your guests can experience all the resort has to offer.
11. Chalk Hill Estate: This refined rustic estate is tucked in the mountainous landspace between Sonoma and Napa counties. Chalk Hill is one of Sonoma's benchmark producers, and they are well known for the events they host as well! Their ceremony lawn and Pavilion reception spaces are perfect for building the wedding of your dreams, especially if you have a large guest count.
12. Fairmont Sonoma Mission Inn: This wine country resort prides themselves on their decadent food and their manicured garden grounds which host many wedding ceremonies every year. You choose the Fairmont for it's great pricing coupled with that lush ceremony lawn!
13. Bently Reserve: The Bently Reserve has a very similar feel as the Asian Art Museum we mentioned previously. It's large neo-classical pillars and vaulted ceilings make for a grand wedding reception! It used to be the federal reserve, so its history coupled with its convenient location next to the Le Meridien Hotel make it both impressive and logistically desirable.
Photo credits:
Lori Paladino Photo