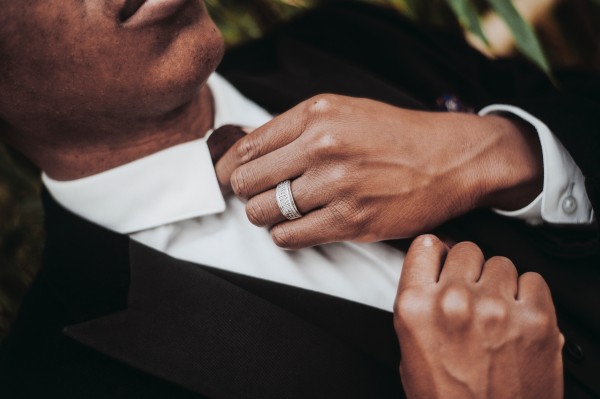 When it comes to choosing wedding rings, the classic options such as gold and platinum easily comes to mind. These are the traditional rings that brides and grooms have been wearing for many years. However, modern gentlemen may have other style ideas in mind. A wedding band is meant to be worn forever so it is very important for grooms to choose one that is stylish and reflects his personality. With the wealth of options available today, grooms can choose from the many alternatives to the classic wedding ring.
Other metals
While gold is the more traditional choice when it comes to wedding bands, other metals have been gaining popularity with modern bridegrooms. Metals such as tungsten, oxidized bronze and copper are just some of the choices for grooms who want to create a modern twist to the classic. Other metal options not only provide a more varied selection when it comes to style, they also allow for a wider price range to accommodate different types of grooms.
Nonmetal options
When it comes to wedding bands, metal is not the only way to go. There are other unique options that can be just as meaningful and chic. Wedding rings made out of wood such as oak, teak and koa trees embody a groom's adventurous and outdoorsy side. For grooms who are edgy and enjoy active lifestyles, lightweight options such as silicone and carbon fiber rings are trendy alternatives to the classic. There are a lot of nonmetal options that grooms can choose from that are as long lasting as metals.
Black rings
Back in the old days, wearing black to a wedding was frowned upon. Wearing black was then seen as a passive aggressive protest to the marriage. But, wedding customs have evolved and modern grooms are caught up with it. A carbon fiber ring is just one of the choices for this fashion statement. They are less expensive than gold or platinum but just as durable. Black wedding bands are a great option for grooms who want to express their stylish and edgy sides.
Unique patterns
For grooms who want to add a special touch to their rings, including unique patterns, engraving, and embossed details is a great way to make the wedding band more personal. While engraving names and important dates are popular among brides and grooms to be, other creative ways of personalization are making their way as trendy options when it comes to wedding bands. One trend that grooms follow is engraving their beloved's fingerprint into the inside of the ring to make it truly unique. Another interesting option is casting the sound wave pattern of the couple saying 'I do" into the ring. There are so many ways to customize wedding rings to fully exude the personality and style of the groom.
Imperfections
The best love stories are not always perfect. Wedding bands need not be either. Oxidized, dented, dinged and distressed detailing on wedding bands are an excellent choice for ruggedly handsome grooms with a dashing yet edgy style.