Despite the chaos happening around the world, love endures, and many recently engaged couples are deciding when to plan their wedding. In 2020, many long-planned weddings were delayed or canceled last minute because of new regulations or spikes in COVID-19 cases.
While some of those couples chose to have small, socially distanced ceremonies, others postponed their big weddings to 2021, intensifying the competition for the popular weekends at wedding venues. We are seeing the same thing shaping up for popular 2022 dates since we are now seeing a new surge in COVID cases due to the Delta Variant.
Many of our brides and grooms have tied the knot in 2021, and it was spectacular to be back doing what we love. If you have a fall or winter in 2021 or early 2022 wedding you may need to re-think things, push the date or keep it small. However, a small wedding doesn't need to be a boring wedding! Livestreaming, sending your virtual wedding party special favors, like wedding socks, and having Zoom parties can help keep your wedding fun and safe.
Source: davide bonaldo/Shutterstock.com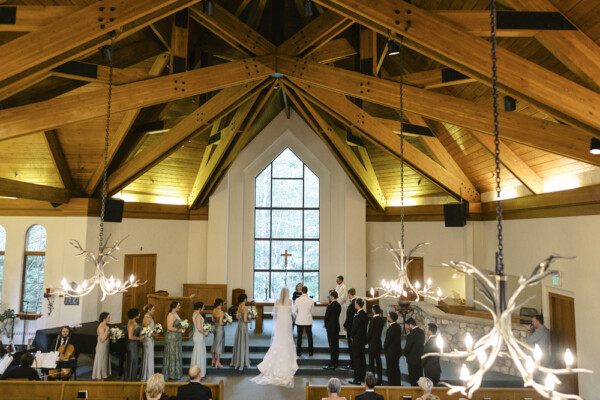 Should You Move Your Wedding in 2021?
Advice for Recently Engaged Couples
Planning a wedding is always a big undertaking, sometimes taking years and costing tens of thousands of dollars, but it can also be a joyous experience and a way to bond even more with your future spouse.
Unfortunately, recent events have made planning weddings far more difficult. The uncertainty caused by the pandemic, and the most recent surge, has meant that with only a few days' notice, states and cities have banned large gatherings or required quarantines for out-of-state guests.
While it may not be possible to have a large, extravagant ceremony and party, you can still plan a lovely, intimate service. Before you start planning, answer these questions to help you decide should you move your wedding in 2021 or wait for your big day.
how big of a wedding do you want?
If you want a large wedding with dinner, drinks, and dancing, you may need to wait until the vaccines have arrived. A study in June 2020 reported that a cluster of infections from social gatherings is likely. At social gatherings, people may forget about social distance, especially when they are seeing friends and family for the first time in a year.
However, having a smaller ceremony will be safer and less likely to cause infections. If you prefer to get married sooner and don't mind forgoing or postponing the big party, you could invite your friends and family to take part through a Livestream.
Source: Olena Yakobchuck/Shutterstock.com
how far will your guests need to travel?
If your friends and family live all over the country or abroad, it might be safer for them to attend your special day virtually. Some states have stricter regulations, requiring quarantine for out-of-state visitors, while others are more relaxed.
If your best friend and maid of honor lives on the other side of the country, you could Skype her, allowing her to stay safe and still take part in your big day.
However, if all your family and friends live in the same area and you see them regularly, you could organize a small in-person event safely, especially if you have an outdoor celebration.
what are the cases like in your area?
Some areas of the United States have significantly more cases than others. If you live in a high-risk area, your government could implement new social distancing regulations which could cause the postponement of your wedding.
are your guests high-risk?
If not having your 90-year-old grandmother at your wedding is a deal-breaker for you, wait until the fall or 2022 to schedule your big day. It may not be possible for other high-risk guests to travel, including immunocompromised family members or people with diabetes.
For most couples, planning a wedding in the pandemic era will involve compromises. If you have a dream wedding in mind, with 200 guests, a full meal, and a big party, plan on a date further in the future. By then, the vaccine will be widely distributed and guests may feel safer. You can plan your dream day with fewer worries of infections or cancelations.
Many couples don't want to wait that long, whether for financial or emotional reasons, preferring to compromise on size and style than a date. If that's you, there are many ways to ensure your wedding is perfect.
Source: Shunevytch Serhii/Shutterstock.com
Make your wedding special
Having your wedding while the pandemic is still an issue globally may mean that not all your guests can attend in person or that you can't use your dream venue. However, with modern technology and careful planning, you can still include your loved ones virtually and have a blast.
Whether you prefer Zoom, FaceTime, or Skype, connecting with your loved ones is as easy as turning on your phone. If your mom is high-risk, or your best friend lives out of state, they may be unable to shop with you for wedding dresses. However, many wedding stores have anticipated that and provided free Wi-Fi access to allow brides to video chat with their loved ones, getting advice virtually.
The same goes for all your pre-wedding events and the wedding itself. Set up your laptop with a good vantage point, and you can include everyone. To make the wedding seem more personal, organize your guests into Zoom breakout rooms, just like you would organize a seating plan.
You and your spouse can also organize short, five-minute private Zoom sessions with each guest, either during the reception or after the wedding, to chat and thank them for attending.
choose empowering clothing
Many brides dream of their perfect wedding dress for years. Whether they want a princess ballgown, a sleek mermaid gown, or a modern pantsuit, a bride's clothing is essential to the day. Many people feel empowered when they wear clothing that supports their beliefs. Consider going to a local bridal store, choosing a company that makes sustainable clothes, or joining the wearing your feminism trend by buying from a female-led bridal shop.
send your bridal party gifts
If your bridal party can't join you in person, send them gifts to wear on your big day. Inspirational socks won't show on the Zoom video, but they will make everyone feel more connected. Have a post-ceremony private Zoom call with your bridal party and have everyone take a silly picture showcasing their socks.
If some of your bridal party will be there in person, consider creating personalized wedding day masks for all of you to the sport.
have your celebration outdoors
To include the most people, move your ceremony outside. Ventilation will reduce the risk of cases, and it will be easier to social distance outside. Consider waiting until the spring or fall for better weather.
If you desperately want to tie the knot this year but also want to have a big party, you can do both. Have a small, intimate ceremony where you exchange vows this year, and then plan your reception for 2023. You can still have your ceremony live-streamed but postpone the parties until it's safe to do so. Waiting until 2023 will also give you more time to save up and throw the ultimate wedding bash.
Be kind to yourself
Planning weddings is stressful even in the best of times. The added stress of potential infections, new restrictions, and cancelations could make it seem impossible. However, remember that you are planning a celebration of your new life with the person you love. Whether it happens in person, online, or next year, the most important thing is that your wedding is joyous and full of love. Hope we have shed some light on some options on the question should you move your 2021 wedding.
Table 6 Productions is a full-service wedding planning and event design company passionate about turning your dreams into a reality. Since 2004, we have planned hundreds of weddings from concept to completion with poise, style, and flawless execution. Our Colorado Wedding Planners also service clients in Aspen, Vail, Colorado Springs, and many other beautiful Colorado areas. In addition, we plan events throughout the United States, Mexico, the Caribbean, and all over the world! Many of our clients live out of the state, which means we are highly knowledgeable in making sure the process is seamless, and you feel involved every step of the way. We'd love to be your Colorado Wedding Planner!