As we say Good Bye to 2021 (it was a ROUGH one!) and Welcome 2022, we want to share with you our Top 22 Favorite Colorado Wedding Venues for 2022.
Devil's Thumb Ranch:
Every time we get to do a wedding here, we have a smile on our faces because we know we are in for a real treat (and so are you and your guests). About 2 hours West of Denver lies this Stunning Colorado Ranch located in a valley with amenities galore. This place TRULY has everything from fly fishing and horseback riding to cross country skiing, a salt-water pool, ax throwing, archery, a ropes course, mountain biking, and a luxurious spa. You can host your rehearsal dinner, welcome party, wedding, and post-wedding brunch all on the property and never use the same space twice. This is just one of the many reasons why we LOVE Devil's Thumb Ranch. They offer luxurious lodge rooms, suites, and cabins, so everyone has an option. (some of their cabins even dog friendly). There are two on-site restaurants to enjoy, so if you don't want to leave the property, you don't have to. This is an authentic Colorado experience for anyone lucky enough to enjoy. And don't let the word "Ranch" throw you off. This is truly luxurious and can handle any wedding style from organic and natural to the grandest black-tie affair. Be prepared to bring a six-figure budget to the table. It's an expensive but worthwhile experience. As an experienced Colorado Wedding Planner, this venue will always make the list!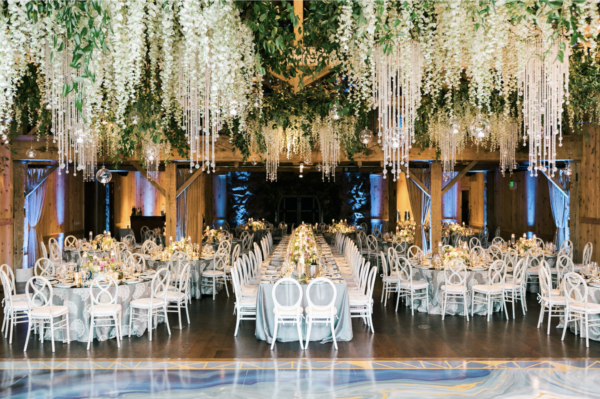 The Broadmoor:
One of the most beautiful, historic hotels in our state is The Broadmoor. Your guests will feel like a luxury during their stay as this vast property offers so much. If you are looking for a true destination wedding weekend experience, this is at the very top of our list. From their phenomenal restaurants and chic pool cabanas to their championship golf course and indulgent spa, there is so much for you to enjoy here. They even have a bowling alley and movie theater. Their staff is some of the friendliest we have ever met, and they have an abundance of delicious food and drink offerings. There are multiple options for your ceremony, cocktail hour, and wedding reception, as well as spectacular views of the mountains. There is even a beautiful body of water between the two towers with real swans and paddle boats. Once your guests check-in, they don't ever have to leave. We often do "staycations" here because we love it so much. If food, service, and overall guest experience are a high priority for you, then this is a perfect choice. There are also plenty of nearby hotels for guests on a budget, and Manitou Springs is a fun spot for a day trip. Your more adventurous guests can climb the Incline (look it up!). With years of experience planning luxurious Colorado Weddings, we are certain this venue will always make the list!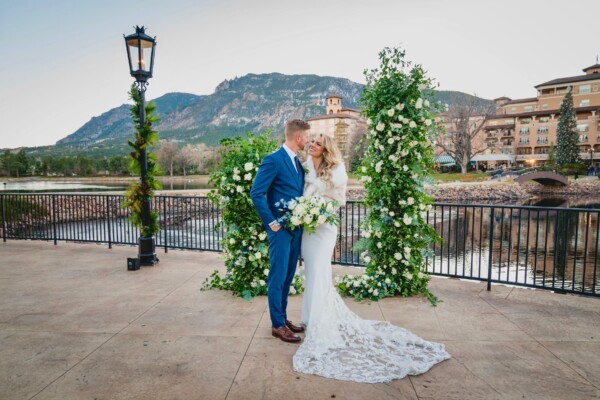 Garden of the Gods:
With its iconic Red Rocks and picturesque views, the Garden of the Gods Resort is loved by Colorado locals as well as many of our destination clients, particularly those that care about views. The ceremony location is one of the most stunning you will find without driving multiple hours into the mountains. Their cuisine is delectable, their hotel rooms are well-appointed, and their staff is always welcoming. You can host your Colorado wedding inside their beautiful dining room with floor-to-ceiling windows facing West, or you can opt to do a tent. Ceremonies are iconic and take place on the reflection pool overlooking the gorgeous red rocks on the lawn. For the "view" enthusiast, this venue should definitely be at the top of your list, and Colorado Springs is growing! They have a lot to offer. As an experienced Colorado Wedding Planner, this venue will always make the list!
Four Seasons Vail:
The Four Seasons Vail is it if you are going for luxury in the Vail Valley! As a Four Seasons, you know you can expect gorgeous rooms, spectacular service, and delicious food and drinks. The rooms are chic, with a modern mountain feel. Trust us; you won't want to leave. Located in a prime location in the middle of the town of Vail, your guests will never have to step foot in a car because they can either walk everywhere, take a gondola, or take advantage of the free Vail transportation. The Remedy Bar is iconic in the Vail Valley and one of our favorites to enjoy an Old Fashioned or glass of wine by the fire, no matter the time of year. They have a stunning, newly remodeled ballroom that is the perfect spot for your black-tie affair. If you ever dreamed of walking down a long, fashion show-style catwalk through a pool to your wedding ceremony, you can do that too. (It's pricey, though) If you desire a more religious ceremony, you can hop on over to the Vail Chapel and have your ceremony within walking distance to the hotel. You know you can expect first-class service with the Four Seasons name. Table 6 Productions has planned Colorado luxury Weddings for years, and the Four Seasons brand will always make our list.
Four Seasons Denver:
What can we say? We LOVE the Four Seasons. The Denver property has just as much magic to offer without driving to the mountains. If you are a city person, and looking for that metropolitan feel, and all the amenities that a hotel wedding can offer, then this is your place. Centrally located in downtown Denver, there is a ton for your guests to explore. Depending on the time of year, there are many activities to enjoy, such as the art museum, meow wolf, the selfie museum, sporting events, world-class restaurants, and renowned breweries. The modern crystal chandeliers in the Grand Ballroom are stellar and set the tone for an elegant wedding. Ceremony and cocktails on the rooftop pool will give your guests all the Sex and the City vibes. Food is decadent (don't miss the lobster bisque), the staff is overly accommodating, and you can dance the night away until 2 am! Perfect spot for late-night parties. The hotel bar, EDGE, is upbeat and happening no matter the time of day. The rooms offer spectacular views of downtown and the mountains. This is by far one of our favorite downtown Denver wedding hotel choices. As a Colorado Wedding Planner who focuses on service, this venue will always make our list!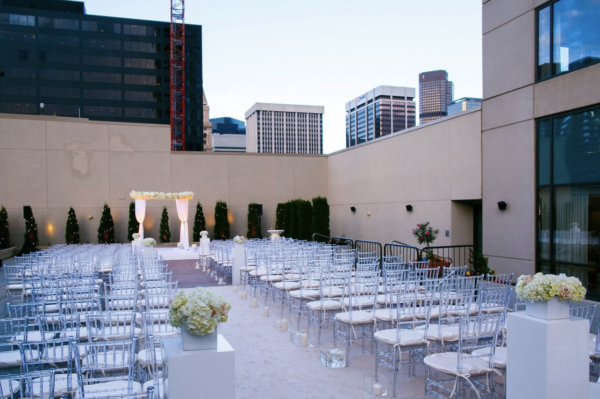 Ritz-Carlton Bachelor's Gulch:
Because we are such lovers of luxury hotels, this property always makes our list. Set back in Bachelor's Gulch mountains, you are assured stunning mountain views as the chair lift is right behind the hotel. We have done weddings here during all four seasons, and fall is our favorite. But, it is such a versatile property for any time of year. They have one of the largest ballrooms in Eagle County, which is attractive for larger guests counts. But, they can host perfect intimate weddings as well. Ceremonies are always outside (weather depending), and cocktails can be held on the Mountainside terrace as the sun sets and the fire pits glow. Rooms are cozy luxury, food is always perfect, and their staff is vibrant and welcoming from when you arrive. Of course, we can't forget that it is dog-friendly for our animal-loving clients, and no day is complete without a visit from the resident Bernese Mountain Dog. We have even done an outdoor wedding with Tipi's (pictured here), but you can also go with a mainstream tent as well or opt for the beautiful ballroom. This property should definitely be on your venue list of considerations for the mountain-loving outdoor enthusiast who also has discriminating taste.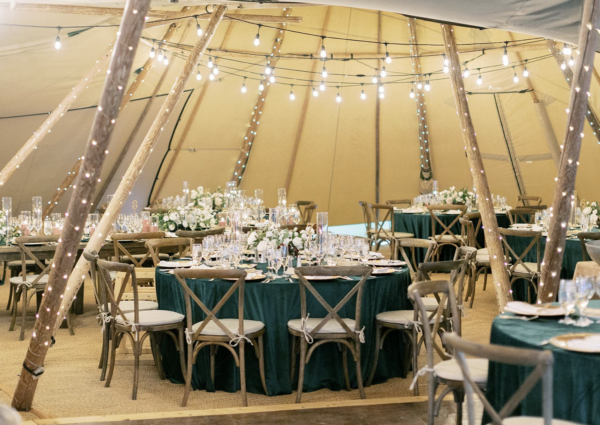 Ritz Carlton Denver:
If it isn't totally apparent yet, we are suckers for luxury hotels. And every time Denver gets a new one, we get SO EXCITED! The Ritz Carlton Denver is host to some gorgeous weddings. It is located in the Northern part of downtown as you approach the RiNo district, a hipster neighborhood full of character. When you pull into the hotel, you are immediately greeted by staff who make you feel just as important as you think you are. As you walk up the stairs in the lobby, you will pass Elway's, a Colorado steakhouse owned by none other than #7. You are greeted by a beautiful foyer and a truly private wedding experience. The ballroom is one of the largest downtown Denver, so it is a huge draw for high guest counts. They also have an outdoor space that can be transformed entirely or tented. The spa is one of the best in Colorado, and the rooms are rich and luxurious. If service is high on your list, this one is a must.
Beano's Cabin:
If you are searching for a luxe mountainside cabin feel for your Colorado mountain wedding, Beano's cabin is a perfect fit. It's rustic yet elegant, and when they aren't doing Colorado mountain weddings, they operate as a Four Diamond restaurant. In the winter, you take a sleigh up to the cabin, and in the summer, they will shuttle your guests up. They offer a 5-course dinner to your guests that are not only impressive but perfect if you are a true foodie. Their ceremony location is tucked away in the mountains. Everything flows so effortlessly, from the ceremony in the field to cocktails on the patio, to dinner in the dining room, to dancing on the deck under the stars. If you want an elevated rustic Colorado experience and amazing wedding food, this is the spot.
The Park Hyatt:
One of our favorite hotels in Beaver Creek is definitely the Park Hyatt. The hotel lobby was recently renovated and gave a great first impression the second you walk in the door. A beautiful fireplace feature greets you, concierge-style check-in desks, an adorable market that offers everything you could imagine (including wine, yay!), as well as a large circular focal point bar overlooking the mountains. 8100 Mountainside is one of our favorite "hotel" restaurants, and it also has private space to host various types of events. There is a fantastic pool, luxurious spa, and the hotel is also dog friendly. Always a bonus for our fur babies! They offer various spaces for both indoor and outdoor ceremonies, cocktails, and reception. You can tent the lawn or have a ballroom-style wedding. You could also consider hopping on the Gondola and getting married at the top of the mountain at the Beaver Creek wedding deck, or if a church is more your speed, the charming Beaver Creek chapel is right next door. If you want to get married in the Beaver Creek area, this is definitely one of our top pics.
Schmid Ranch:
Although Telluride is a hike, it is worth it, and the drive is gorgeous. So if you want to really WOW your guests with Colorado's most spectacular views, then look no further than this quaint ski town. Other than the drive, the downside to Telluride is that there are only a handful of wedding venues worth considering. But the upside is, all of them have views like no other, especially Schmid Ranch. A family-owned ranch, this property is a bit off the grid from Telluride, about a 25-minute drive. So you will want to offer transportation. However, it is like nothing you have seen before once you get up there. Thousands of pristine acres of space with gorgeous views of the mountains, you can turn this space into anything you want. There is no "venue" per se, so you have to build it yourself from the ground up. So having an experienced Colorado Wedding Planner is essential. However, the sky is the limit on what you can do because you get to bring everything in yourself. Of course, when you do this, it gives tons of creative freedoms but does come with a hefty price tag. Your ceremony takes place in a forest filled with aspens, while your cocktails and reception take place in the tent. Keep your guests in the town of Telluride, so they can enjoy all it has to offer. If you can get past the remoteness (there is no wifi) and you have a healthy budget and want a luxurious Colorado mountain wedding, you should definitely consider this spot. But don't forget, you will want to hire a Colorado Wedding Planner for this location.
The Little Nell:
If you are looking for a luxurious, high-end Aspen wedding experience, then this is your place. Guests load the Gondola for a picturesque ride to the top of the mountain. A glass of champagne greets them, and the Aspen Wedding Deck, which gives some of the gorgeous unobstructed mountain views, not to mention offers a ton of privacy. After your ceremony, you can buy a cocktail on the Sundeck patio and enter the reception space, a blank slate for someone with a vision. (that would be us!) You can party till 1 am while enjoying 5-star cuisine, a Magnum Veuve Clicquot pour, and creative late-night treats. Drink as much as you wish because you can just hop right back on the Gondola and take a ride back down to the base and walk a few steps to your beautiful room. (with breakfast burrito in hand) Warning: we would not even consider this venue unless you have a six-figure wedding budget (just keeping it real here). But if your wedding budget allows, splurge here!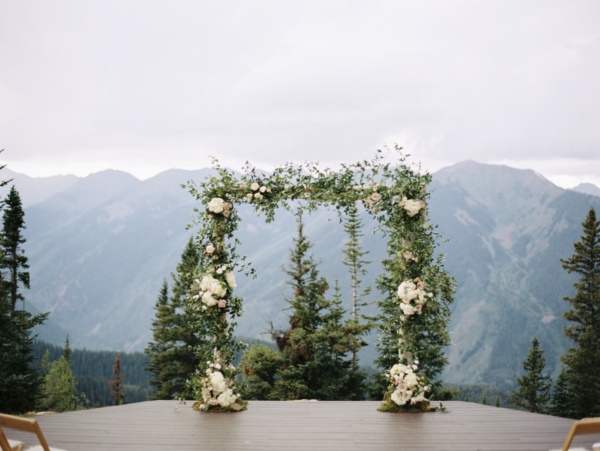 Camp Hale:
Camp Hale won our hearts in 2020 (can you believe that?) and has quickly become one of our favorite (slightly off the grid) Vail area wedding venues. Activity outfitter by day and stunning tented wedding venue by night. Located an easy 25-minute drive from Vail, CO, in Red Cliff, Camp Hale is a breathtaking place to have a wedding. The ceremony is held on an island and overlooks the most beautiful little lake and mountain peaks. From there, your guests walk over to the white tented area for cocktails and hors d'oeuvres, then dinner and dancing are inside the tent, which is provided by the venue (major perk!) The venue offers cabins for girls and boys to get ready, as well as transportation to/from wherever your guests are staying, so no one has to drive (all for an extra fee). This venue can be embellished as much or as little as you would like. So if you want to put your guests in the town of Vail but take them off-site somewhere breathtaking for the night, this is your place!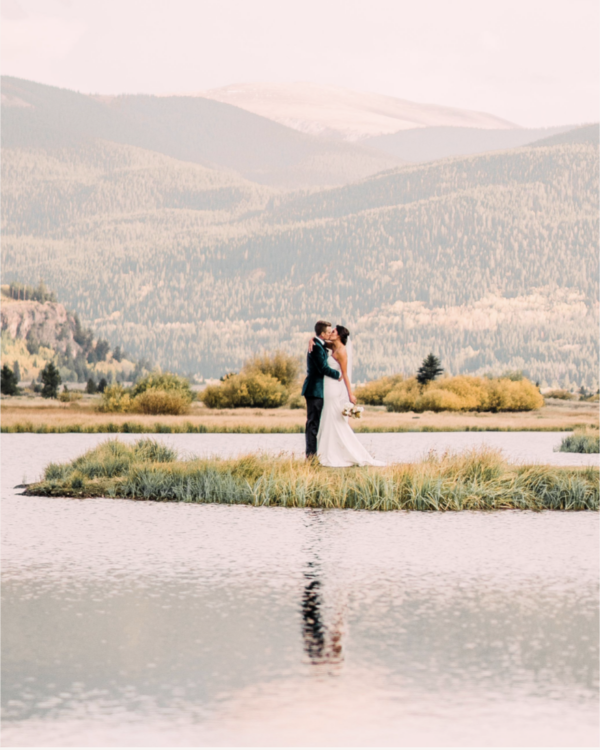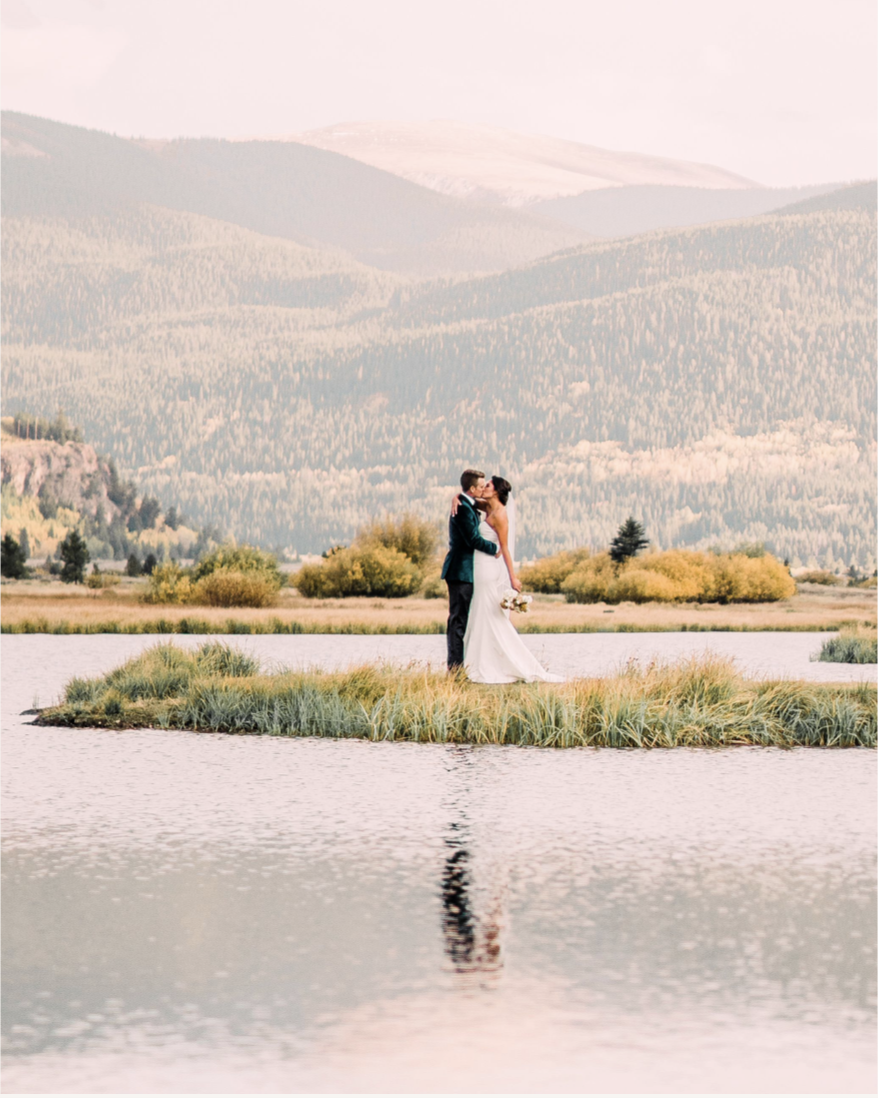 St. Julien Boulder:
If you have a unique tie to Boulder, this one definitely tops our list. Their outdoor ceremony space is quaint and intimate and overlooks the beautiful flat irons. Both the ceremony and cocktails can be held outside. Then you can move into their ballroom for dinner and dancing. After you are done partying for the night, simply hop on the elevator and head to your comfy room. They have an excellent chef who has been with them for a very long time (which says a lot in our industry) and an extremely innovative and talented pastry chef to make all your dessert dreams come true. Boulder offers your guests so much to do, from fly fishing and hiking to mountain biking and shopping on the Pearl Street Mall. Some of Colorado's finest restaurants are located in Boulder, and beer is definitely a thing! Once your guests arrive, they never have to step foot in a car, which enhances your guests' overall experience. If you haven't been to Boulder yet, you MUST check it out.
Blanc:
If the urban thing is more your vibe, then Blanc is it. Its white interior and exterior (blanc) offer clients a modern yet neutral palette to develop their design. This venue can literally take on any vision. They allow you to bring in your caterer, which gives you a lot of flexibility in your food style. They also handle all of the alcohol for you through Peak Beverage, making it easy and affordable. The location is perfect for keeping your guests in the downtown area. They have a lovely outdoor space perfect for your ceremony and cocktails. Want to take a chance on the weather? Then you could have your entire event outdoors. If you are a sucker for ceiling installations, this is every florists' dream space. Also, if you don't want things to wind down quite yet, there are many options within walking distance to keep the party going until 2 am.
Grand Hyatt Vail:
Since it opened, the Grand Hyatt Vail has been one of our favorite Vail hotels. Previously the Hotel Talisa, and the Vail Cascade before that, this hotel has finally settled as a Hyatt property and aims to offer an elevated experience. They can provide you with two very different ballroom settings, as well as a tented space (they provide) if you want your event to be outdoors. Just note: there is a noise ordinance if you go this route (but you can move inside and keep the party going). The ceremony space overlooks Gore Creek, cocktails are held on the patio with gorgeous mountain views, then dance the night away in whichever space fits your vision best. We love the Moet and Chandon vending machine that greets guests in the lobby and the daily champagne reception at 4 pm with free champs (Yes! Free Moet) and live aspres' style music. The hotel is a short mile walk to the town of Vail. Modern mountain-inspired rooms are well-appointed, and the on-site market has everything you need from coffee to wine to snacks. (and more)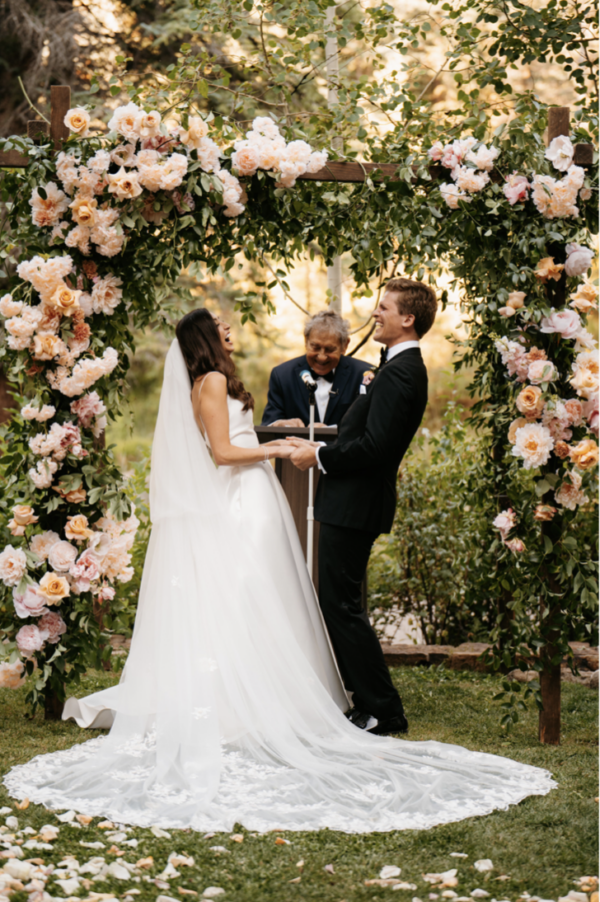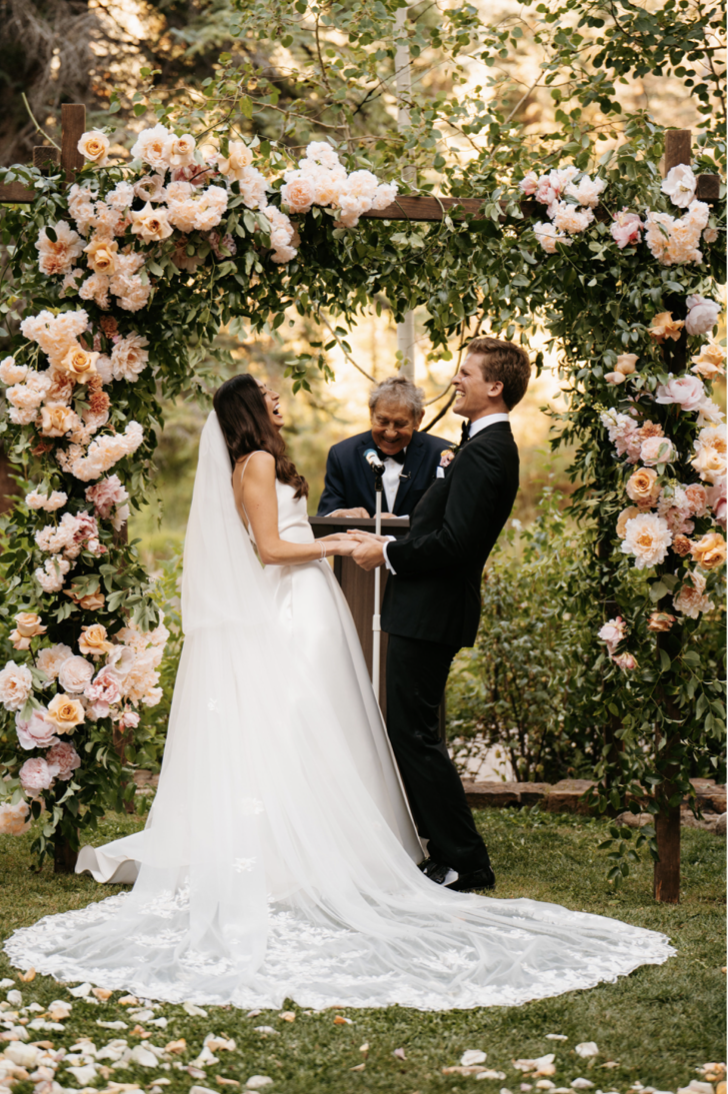 The Tenth:
This is the one for the most authentic on-mountain wedding experience in Vail. First of all, to get to it, you take a gorgeous 15-minute gondola ride. If you are afraid of heights, this might not be for you. The Ceremony view is out of this world and will surely impress your guests. Cocktails are on the patio and flow as an indoor/outdoor option with a centrally located built-in bar. The 10th has restaurant-style food since it operates as a ski lodge by day and a venue by night. Floor-to-ceiling windows give your guests something beautiful to look at while the sunsets. Whenever we do weddings here, we always offer something fun on the gondola ride down at the end of the night, such as breakfast burritos, donuts, and energy drinks to keep the party going once they get down.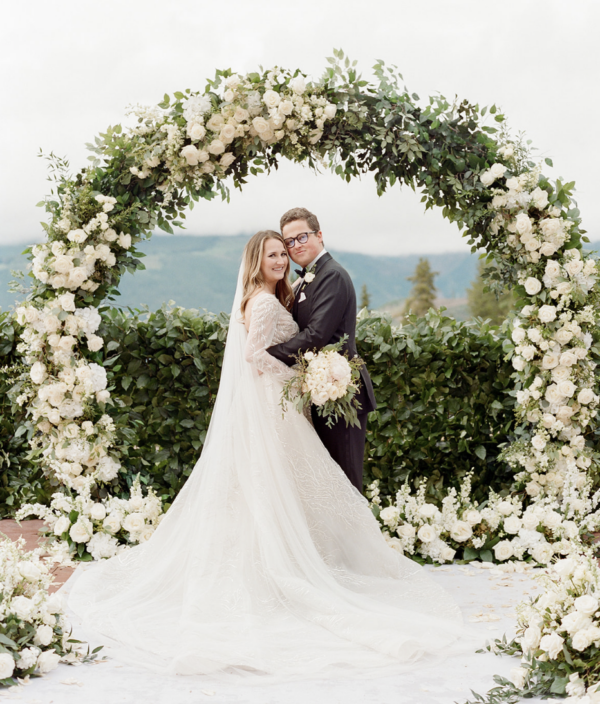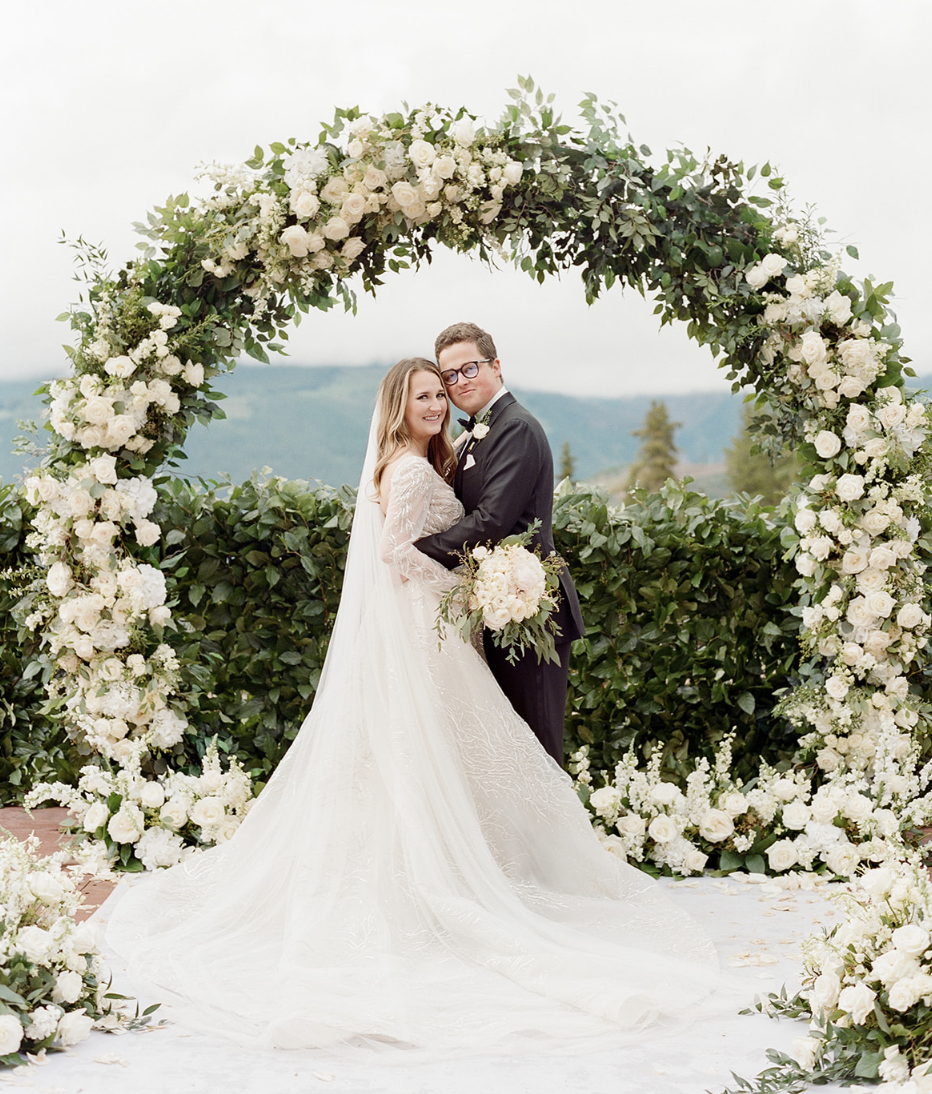 The Donovan Pavilion:
The Donovan Pavilion, which is owned by the town of Vail, is one of our favorite "blank slate" style venues in the mountains. Not only is it one of the larger mountain venues, being able to accommodate up to 250 people, but it is also very centrally located, has the floor to ceiling windows, a beautiful ceremony and cocktail area, and you can keep everything in one spot, so your guests don't have to move around. You can bring in your caterer, your alcohol and truly build your event from the ground up. Its neutral interior palette lends itself to any style or vision. There are incredibly high ceilings with wood beams and tons of natural light. The rental fee for the venue is also very reasonable. We like that because it gives us more money to play dress-up with. But beware, this venue's popularity means it books up quickly. So, don't delay if you are interested. If you don't want your ceremony on-site, you can also consider having it off-site.
Columbine Country Club:
By far one of our favorite Country Clubs in Colorado to host a wedding. If it is good enough for Olympic Swimmer, Missy Franklin's wedding, then it's good enough for you! They have a beautiful ballroom-like space attached to the club with a lovely outdoor green lawn. Lots of windows and natural light make it much different than a typical hotel space. They also have multiple outdoor sites to offer for your ceremony, and you can even put up a tent. This is our favorite option. They have some of the best "country club" food we have ever tasted, and they are very amenable to creating custom menus. Bonus: You do not have to be a member to get married here—also, lots of options for your out-of-town guests. You could keep them in the downtown area or Cherry Creek North. Just an easy 20 (ish) minute drive and you are there.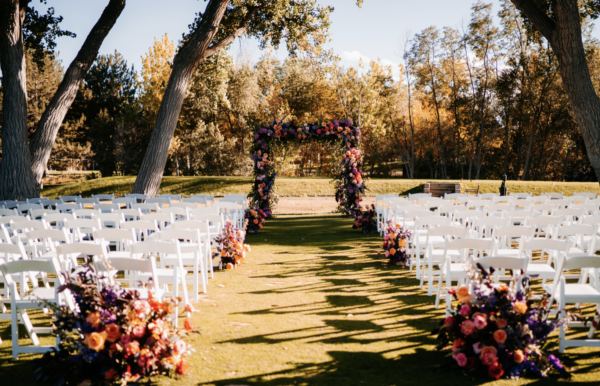 Vail Golf Club:
Vail Golf Club has quickly become one of our favorite Vail Valley wedding venues for affordability (and many other great attributes). Depending on the year, you can do an outdoor winter ceremony on their covered patio with the most spectacular snowy mountain view. Alternatively, you can opt for a wedding on the island, connected by a Hallmark movie-worthy bridge (spring, summer, and fall only). Cocktails can be indoor or outdoor, and the reception takes place inside their modern mountain space with floor-to-ceiling windows. So, you get views all day long! You have the option to bring in your caterer (additional fee) or use them for your catering needs. They will also handle the bar. It is located in East Vail, just minutes away from the town of Vail. And of course, if you have golfers in your group, this is the perfect place to send them.
Spruce Mountain Ranch:
Since this Colorado wedding venue opened in 2011, it has remained a popular choice for Colorado locals and destination clients, and with one visit, you will see why. This gorgeous sprawling black Angus cattle ranch has so much to offer. Located in Sedalia, just 25 minutes from the Denver Tech Center, this venue appeals to the chic city girl to the natural, rustic client. (and everyone in between). They offer multiple outdoor ceremony sites, cocktail spaces, and two very different venues to choose from with numerous features. You can bring in your caterer, which we always prefer. They handle all alcohol through Peak Beverage. There are lots of options for your out-of-town guests as far as accommodations as well as transportation offerings to make sure everyone gets there and back safely. If you are looking for an authentic "Colorado Wedding" feel, this is it!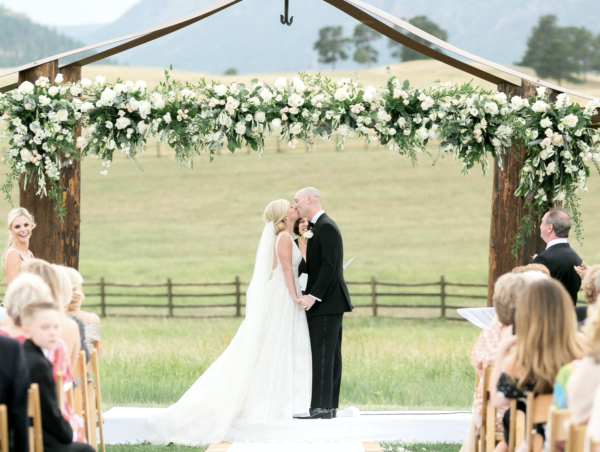 Larkspur Vail:
If you've spent any time at all in Vail, then I bet you've heard of this spot! Not only known as one of the best restaurants in Vail, but it is also a highly desired Colorado wedding venue. If you have more of a modern aesthetic, this is the perfect spot for you. An outdoor ceremony on the lawn facing the gore range, cocktails on the lawn or the patio overlooking the mountain and Gondola, then dinner inside the elegant restaurant. Dancing is held in the rotunda-style room. This is also a great spot to consider for a rehearsal dinner, welcome party, or post-wedding brunch. This should be high on your list if you consider yourself a foodie. You will get those romantic, cozy mountain vibes.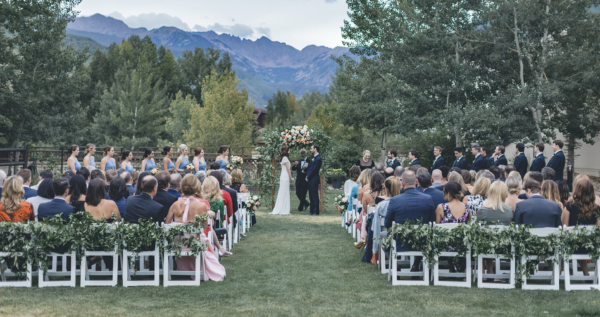 A Private Residence:
Last but not least, one of our VERY favorite venues to plan a wedding is a private residence. We absolutely LOVE the uniqueness and custom personalization that a private property offers. Not only does this option give you so much flexibility because YOU make the rules, but it can also provide more personal symbolism to your marriage, such as your childhood home. However, don't consider this style of the event the easy way out. Building an event from the ground up involves a LOT of logistics, which can cost a LOT of money. There are many things to consider when having a wedding at a private residence, so it is crucial that you hire the best Colorado planner to hold your hand throughout the process. But, in the end, having an event at a private residence or property offers a Sky's the Limit potential, and we LOVE that!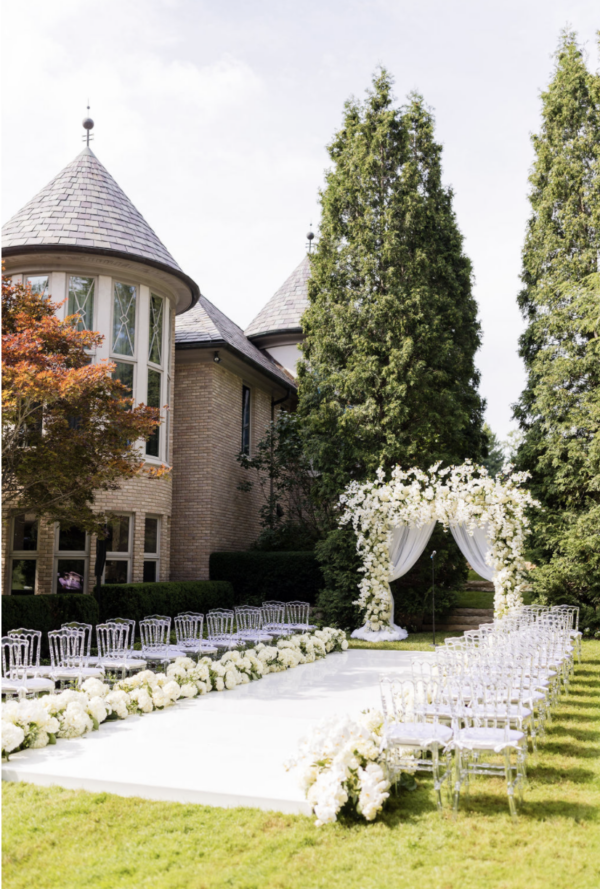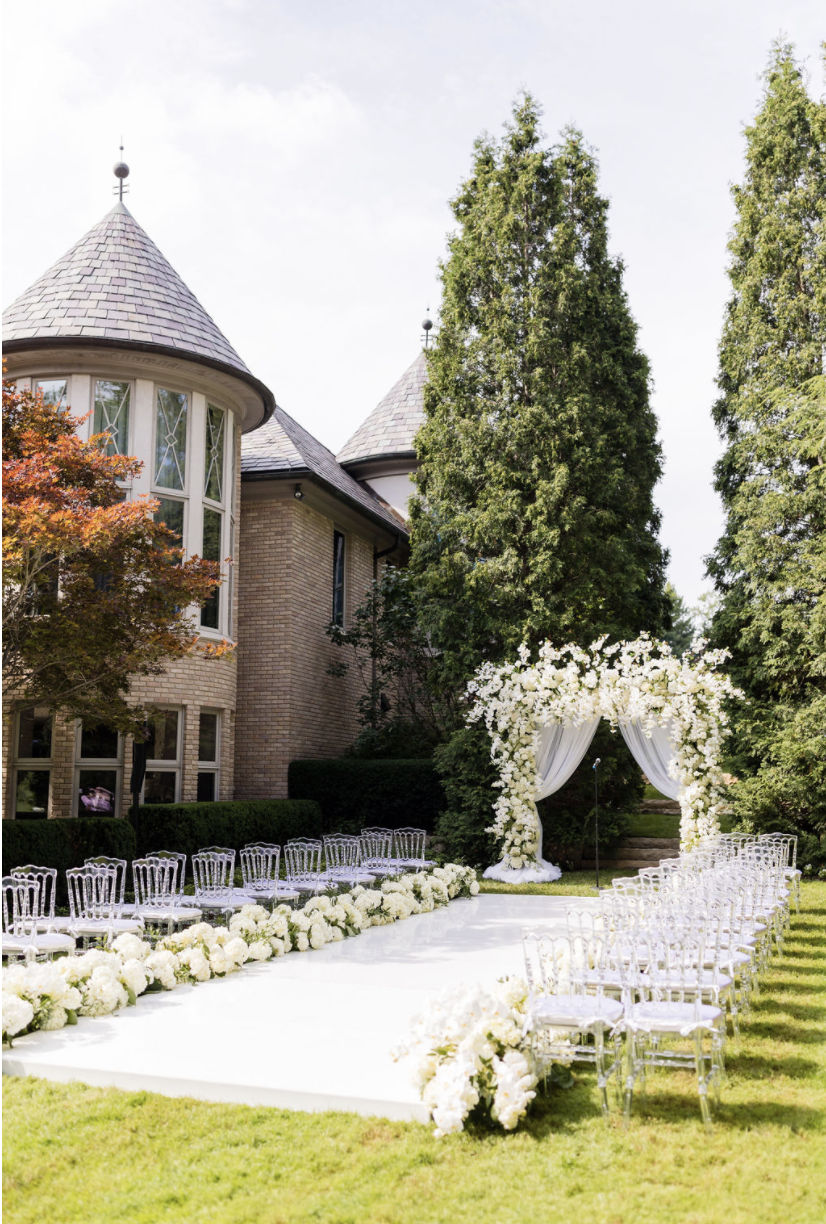 Table 6 Productions is an award-winning luxury wedding planning and event design company who has been planning fresh, flawless, elegant events for more than 17 years. We pride ourselves on our unique approach to event design as well as the immense focus we put on the guest experience. Our company has multiple locations around the world, which allows us to offer Colorado Wedding Planners, Florida Wedding Planners, California Wedding Planners, New York Wedding Planners, Mexico Wedding Planners, as well as Destination Wedding Planners. We service clients all over the world. Our passion for planning fabulous events can be read through our online reviews or you can view our extensive work in our gallery or on our Instagram. We can't wait to be your premier wedding planning team.
XO,
TABLE 6
Photos Courtesy of some of our FAVORITE photographers:
Sarah Porter, Frances Photography, Rachel Havel, Kayla Coleman, Red Aspen, Steve Stanton, Paige Eden, Tara Bielecki, Mallory Munson, JasonandDaris, Steph Sorenson, Phil Chester, Paris Tews