Colorado Wedding Planning
Table 6 Productions was started by two very driven, sassy, style-focused women in 2004. We have since grown into multiple locations with a highly talented group of creative masterminds, art directors, design junkies, vendor schmoozers, sanity savers, and crisis averters. Did we also mention that parents LOVE US? We are a full-service wedding planning and event design company passionate about turning your dreams into a reality. 
We have planned hundreds of weddings from concept to completion with poise, style, and flawless execution. Our Colorado Wedding Planning team in Colorado also service clients in Aspen, Vail, Colorado Springs, and many other beautiful areas in this gorgeous state. In fact, we plan events all over the world! Many of our clients live out of state which means we are extremely knowledgeable in making sure the process is seamless and you feel involved every step of the way. So, as you can see, we've got you covered. 
We have been recognized as one of the top wedding planning and event design firms in the country. We bring a fresh, fun, sophisticated attitude to every wedding and event we plan. Our approach is simple. We make the journey fun, exciting, and low stress. We put great focus on the overall guest experience, thinking through the logistics particular to your event, and making sure that every detail is touched from start to finish. 
We will offer you impeccable service, attentiveness, creative genius, and flawless execution. We are responsive, proactive and analytical by nature. All of these traits will ensure that a thoughtful event has been planned and executed. 
This is your time to shine! Create an unforgettable experience with Table 6 Productions. Let us be a part of your colorado wedding planning "Dream Team".  Get in touch with us today and talk to our Colorado, Aspen, Vail, or Destination Wedding Planners.
Meet our Team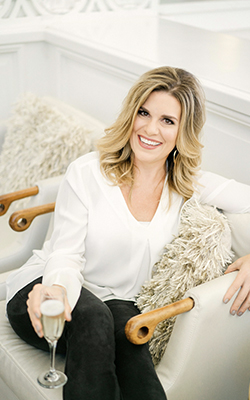 Heather Allen
A few of my favorite things
Lulu Lemon
Green Tea
Sushi
Expensive Champagne
Sunday Funday
Orange Theory
Chanel Perfume
Destination Weddings
Instagram
Rom Coms
Puppy Breath
E! News
Napa Wineries
Tory Burch
Originally a Florida girl, Heather moved to Colorado after graduating with a degree in Broadcast Journalism. After pursuing her master's degree and realizing that getting her own show on E! was going to be harder than she thought, she switched gears and devoted 7 years of her life to the advertising world working with large Automotive brands like Ford and Toyota. Through this endeavor, she realized that it wasn't the corporate expense account she loved most, but instead it was the planning of large events for her high-profile clients. After planning her own wedding, she realized the wedding industry had a need for a modern-day planner that focused on event design as well as making sure the event was personalized to the couple. Heather entered the wedding market in 2004 as a vivacious trendsetter when wedding planners weren't even really a thing (except in movies!).
Heather is an anomaly! She is known for creating the trend, not following it. She is a type A, right-brained leader. She is known for "dreaming" up her next design concept (literally). Although she possesses all the "standard" qualities of an exceptional planner, her forte' is definitely event design and the art of negotiation. This is what her clients love about her most (and that she is really fun!). Her ingenious designs and ideas have been featured Nationally by places like The Knot, Bride's, Martha Stewart, Inside Weddings, Carats & Cake, Destination I Do, 5280, Style Me Pretty, and Grace Ormonde (to name a few). Heather's reputation in the wedding industry has earned her some of the most prestigious accolades such as Event Solutions "Event Planner of the Year" and being inducted into the Knot's "Hall of Fame" for being voted in the "Best Of" Wedding Planners for twelve years in a row.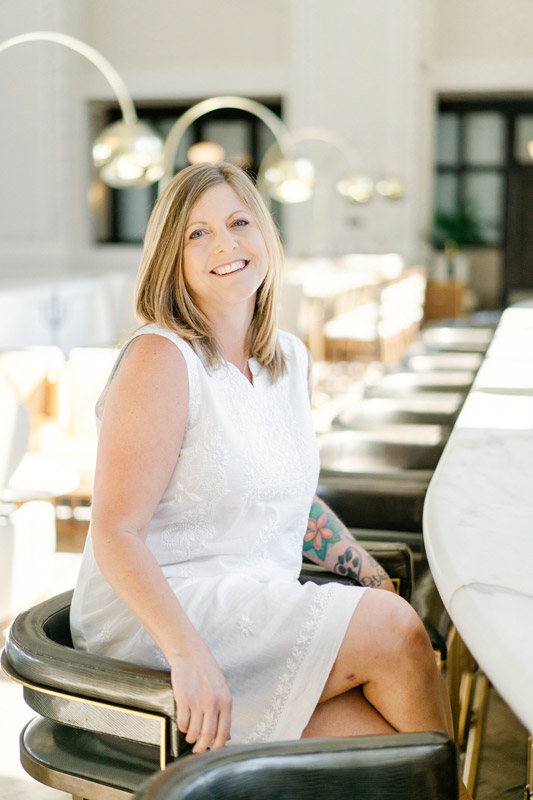 April Sanders
A few of my favorite things
Starbucks
The Mountains
Shoes
Photography
Dog Cuddles
Hobby Lobby
Christmas
Music
French Fries
Pedicures
Date Nights
Crate and Barrel
Movies
DIY
April grew up around the glitz and glamour in "La La Land" (AKA: Los Angeles, California) where she studied TV Production and set design. After discovering that her passion for design could be coupled with her love for the holidays, she began decorating luxury homes for celebrity clients around the Los Angeles area. A desire for a change in scenery (literally) made April and her family move to Colorado. April joined Table 6 Productions as a "month of" executor. This was a quick way for her to dive right in and learn some of the most important aspects to a successful wedding including day of execution.  
Her positive attitude and calm demeanor under pressure is what her clients love about her most. She has shown an amazing eye for detail, out-of-the-box creativity, and a true passion for events (you will find her smiling and repeating "I just love weddings" to herself). April has proven to be an amazing asset to the Table 6 team. She is a creative, responsible, girly girl at heart (don't let those artsy tattoos fool you!) She also just happens to be the cousin of our President, Heather Allen.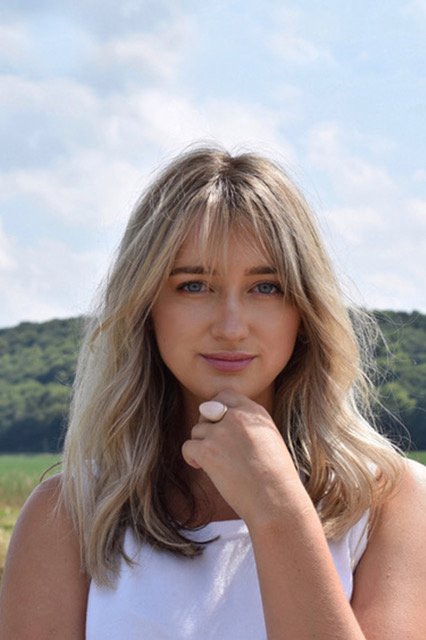 Kelsey Smith
A few of my favorite things
Fun Pants
Rom Coms
House Plants
New Girl
Mule Flats (and the drink)
Border Collies + Welsh Corgis
Creative Photography
Iced Coffee
Wine (yes, every kind)
Volleyball
The 1975 Band
Thai Food
Michael Kors
Aspen, CO
Kelsey was born and raised in Northwest Iowa. She chased her dreams and received an Event Management degree from a nationally ranked program at Iowa State University. She found herself dabbling in all types of events. She even got an opportunity to work on the event team for Super Bowl LII! After taking her first wedding planning class, she knew her heart belonged in weddings.  Executing her first wedding only solidified her passion for planning.
Kelsey is a creative self-starter and thrives under pressure… the perfect combination of wedding planning traits! If she's not reading self-help books or snapping creative photographs, (check out her Instagram @kelsscholastica) she's reading up on the latest wedding trends! Being born and raised in Iowa shaped her into who she is, but she always knew her heart belonged in Colorado. After working for a prestigious wedding planner in Minnesota and running a wedding venue, she decided to leave her Midwest roots behind, and hasn't looked back. Her favorite part of Colorado is that the mountains always remind her to look up. Being involved in the wedding industry has opened her eyes to so many things, not just the fact that she's a hopeless romantic! She feels so grateful to help two people become one on their special day.
Table 6 Productions Colorado
4.6

stars on Google based on

43

reviews
6833 S. Dayton St, PMB #130
,
Greenwood Village
CO
,
80112
(303) 956-8566