This week in our guest florist series, we are featuring Celadon and Celery, an event services business servicing New York City, Los Angelas, and beyond. We asked Bess Wyrick from Celadon and Celery to give our brides a guide for getting the best ceremony flowers. Take it away Bess!
Awe- Inspiring Altar
Pay up where the groom stands. The spot where you exchange your vows is your big moment. It is the focal point of the entire ceremony. It should be pleasing to look at and free of obstructions so all of your guests can see you both. Frame this area with a magnificently decorated arbor, a pair of pedestals, swags of greenery or flowers, a backdrop, an altar, a chuppah or an arch – there is no limit. Look creatively at your venue to determine the best place to hold your ceremony.
Walk the Runway
Decide how you'd prefer for everyone to walk down the aisle, especially the bride. As the bride, you may decide to be escorted on the arm of your father, or have him meet you half way down the aisle. You may want to be flanked by both parents or you might choose to walk alone, illuminated only by a pool of light. Whatever your runway style is be sure your aisle is big enough if you choose to be flanked by both parents and to fit that dress!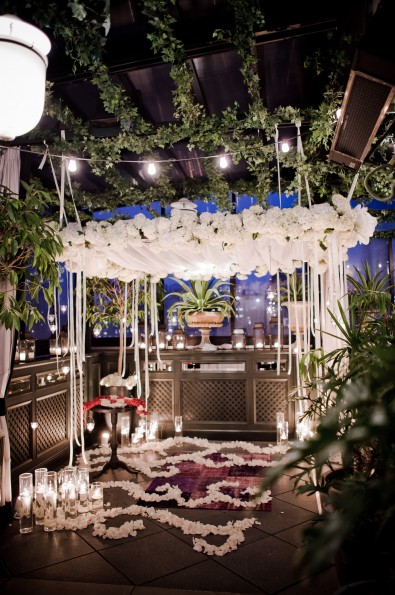 Flower Power
Almost every ceremony includes flowers as part of its design. Weave a thread of similarity between the blooms in the ceremony and the ones in the celebration. You don't necessarily have to match all the blooms used that day, but staying within a color scheme brings a sense of uniformity to the look and feel of your wedding.